I typically don't visit the J. Crew Factory website often because they don't offer free returns, and there isn't a store close enough for me to try things on; however, I'll be going on a trip to an outlet mall in June, so I'll definitely be stopping by this outlet store to see what I can find. Hopefully they'll have a good sale on the pieces I have my eye on.
First, I'm looking to replace a Loft striped blouse that I've had for several seasons. It's still in really good condition; however, it doesn't quite lay right across my chest. I'm not sure if it's because of my back or shoulders, but it doesn't lay flat, constantly rising up which is really unflattering. I'm hoping to replace it with this
Printed Draped Tank
. I also have a
Classic Button Down Shirt in Gingham
on my
wardrobe wishlist
, so I'm hoping I'll be able to get that as well or at least see how these pieces fit.
Here's some other pieces I have my eye on:
I checked my
Bloglovin' this morning, and to my surprise I found that Monica was wearing this navy
Crystal Stoneburst Necklace here.
It's the kind of piece that I would wear year round because of the dark stones, and I love the way she styled it. This classic pencil skirt and merino cardigan would also be great additions that would easily work in any season.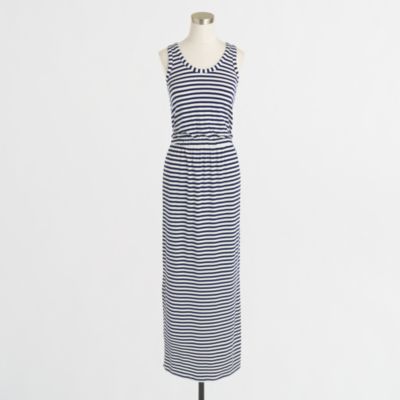 Finally, I've been wanting to get a striped maxidress like
this
one for the summer; however, even with their frequent promotions it's still much more than I'm willing to pay for it. Luckily I managed to find this alternative
Maxi Dress
at H+M. The simplicity of it will make it easy to style, and the price is much friendlier. It's also part cotton, so I just might give it a try during their next good promotion.
What are your favorite new arrivals?